I returned home August 11 without any significant incidents.
The weather was fantastic for the entire trip, with only a couple days of rain, and only a few more with clouds. I did not require any air conditioning, either driving or stopping until I got to Iowa, where I found 2 days of rain, hot & humid, without a breath of breeze. Then the blue skies and cooler temperatures returned.
Here are some statistics on the trip, obtained from the truck's trip computer and my fuel log.
Total Miles Driven: 6,976
Total Hours Driven: 175 (This is really engine run time and includes stop lights, etc.)
Calculated Average Speed: 40 mph
Fuel Economy for the trip: 11.04 mpg
Average Premium Fuel Price: $4.799
Lowest Premium Fuel Price Paid: $3.69 (Sam's Club North Oak KC)
Highest Fuel Price Paid: $5.86 (Fernley Nevada – Mid-grade – Premium was over $6)
Total number of gas stops: 29
Although gas prices were high in the west, the trip average was not that bad. I get enough better gas mileage on premium that it mostly offsets the higher cost.
My truck has an adaptive speed control that maintains a fixed distance behind the vehicle in front of me. I discovered that if I "draft" a semi by 100-200 feet, I gain .5 – 1.0 in gas mileage depending on headwind. (as measured on the trip computer)
Here are the final routes of the trip: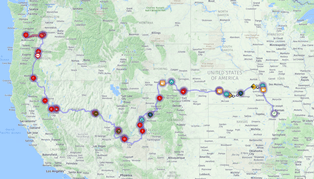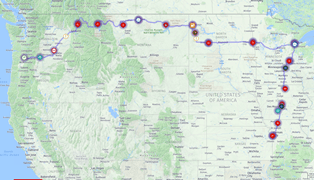 Have a great Rest-Of-The-Summer everyone!