When I was in high school I was enamored by broadway shows – Carrousel, Oklahoma, Sound of Music, but in redneck southern Illinois I never got to see one. But topping them all was the Music Man, and I got a copy of the movie soundtrack when I was a college freshman. I played it over and over, fell in love with Marian and even knew the "Trouble" monologue. I have not thought about it in years.
So it was a bit of surprise when I stopped in Mason City, Iowa for a couple of nights and discovered that Mason City is River City, and Meredith Willson the creator of The Music Man is Mason City's favorite son. He grew up there at the turn of the last century in a talented and accomplished family. Celebrating him is Music Man Square, a recreation of River City main street, a museum, and his boyhood home. The Music Man is his fictional recreation of growing up in Mason City, and as writers are wont to do, the characters in The Music Man are caricatures of people he recalled. He was a prolific creator with two more Broadway shows, several movie soundtracks and the song, "It's Beginning To Look A Lot Like Christmas", and oh, and the University of Iowa fight song. I found a streaming version of The Music Man on the internet. It is still fun!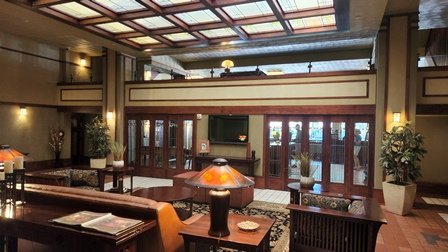 There is much more to Meredith Willson that you can discover if you are interested.
Also in Mason City, is the Park Inn hotel, the only surviving hotel designed by Frank Lloyd Wright. It is in downtown Mason City and was meticulously restored in 2011. The result is beautiful and most of the functional problems of Wright's buildings were corrected. Restoring the Park Inn Hotel
Mason City is a beautiful and culturally sophisticated town. I would like to go back sometime.