Except for a couple of things, I am not particularly impressed with Winterset. I chose to spend the night here because it has an attractive city campground. It is the county seat of Madison county – the one with the bridges. They are trying to monetize this and the birthplace of John Wayne; neither of which are that interesting to me. What was interesting was the Madison County Court House and surrounding historic district.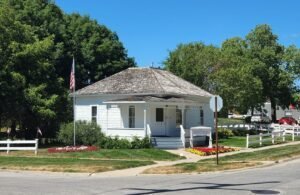 Although Marion Morrison was born here in 1907 in this little white house, he left with his family for California when he was nine. Unlike Meredith Willson who promoted Mason City all his life and is buried there, apparently Duke never looked back. I like a good John Wayne movie as well as the next guy, but could not generate interest in paying $10 to visit the museum. It Is in a beautiful new building next to the boyhood house. They say it is really comprehensive. If you are Wayne fan, maybe worth a visit.
I never read "The Bridges of Madison County", nor saw the movie. I have seen covered bridges all over the U.S. and a couple in Europe. Basically they are just a barn with a road through them. There are six here, most on gravel roads and I was not sufficiently interested to get my freshly washed truck dirty. So I passed on the opportunity.
For me, the real attraction in Winterset is the renaissance revival court house, built in 1876. The surrounding square is pretty neat as well. The entire area was designated a National Historic District by the National Park Service in 2015. Most building facades on the square are restored to be period-accurate. The court house is closed now for major restoration so I could not go inside or get pictures without scaffolding and construction equipment. There is more to find here: https://madisoncountyhistory.net/legacy-in-stone-courthouse-restoration-project/
One of the stores on the square is the Ben Franklin Five and Dime. Both inside and out it accurately represents the Ben Franklin store in the small town where I grew up. That one closed maybe 40 years ago, but I was told that there are quite a few still operated by local owners in small towns under the Ben Franklin name. A nice reminiscence!