2022-05-22
I spent time in two small towns, Missouri Valley Iowa and Cozad Nebraska. I stayed in their city park campgrounds and both experiences were great. These city parks are clean, safe and well kept… and inexpensive.
One of the reasons I like small towns and their parks is you come across truly interesting people and events. As it turns out Saturday night in Missouri Valley was the first dirt-track figure 8 race of the season. The eighth-mile track is a 5-minute walk from the Airstream.
I talked with several of the competitors of the 80-car field. There was Kyler, a laid-back Nebraska boy who pulled his Petty-blue #43 car out of the weeds a few days ago, and got it ready to race. There was the friendly 400+ pound guy in farmer's overalls who's name I did not get, racing a Ford front-wheel drive hatchback. Everyone was fun to talk to.
I also met the Rolfes family. They have been racing figure 8's for 15 years, and it is a true family effort. Dad Jason is the mechanic, Mom Janelle is the videographer and cheer leader, and son 19 year-old Hunter is the driver. Son Cody was their first driver, but retired at 27 because he became a father. All work on building the cars. They race two cars, a stock and an unlimited, about 14 weekends over the summer, in Western Iowa and Nebraska. The in-laws, nieces and nephews, grandkids, and friends all come to the races. It was obviously a joy for all of them.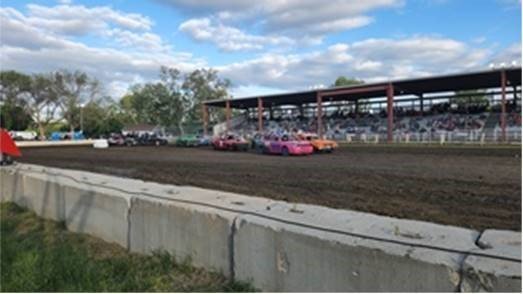 I watched the first heats in which Hunter won both classes by simply running away from the rest of the field. Finally the sun went down and it became too cold and windy for me, so I left and did not see how the night ended for the Rolfes Family Racing Team. Whatever the outcome, I know they had fun.
Cozad Nebraska is another neat, clean, small railroad town with a beautiful city campground. It is just off i-80. It rained for the two days I was there and I did not explore much. But it occurred to me that when you drive the interstate, these towns are just an exit number with gas and some fast food. But when you arrive on the US or state highway, you slow down to the speed limit, see the welcome sign, the stores and businesses that are so important to the residents. You can really SEE the town.
Moving on to North Platte and The Bailey Yard!