2002-07-24
I left Portland on the 17th, and after a couple of stops found myself on US Highway 2 crossing the continental divide at Marais Pass south of Glacier National Park. US-2 parallels the Canadian border from Seattle to the Michigan UP. I would follow it as far as Duluth. Local residents call it the High Line.
This is the golden triangle of the Montana High Desert and is mostly flat and filled with thousands of square miles of wheat, barley, hay and other crops that can grow without irrigation.
I love overnighting at farms. Harvest Hosts and Boondockers Welcome allow me to do this. I have stayed at many, including one of the largest potato farms in the country, another surrounded by corn in Iowa (boy, it was humid!), or a cattle ranch in Janesville California where the sign by my trailer said "Love your country, your family and your beef!" (Although I think family should be first.)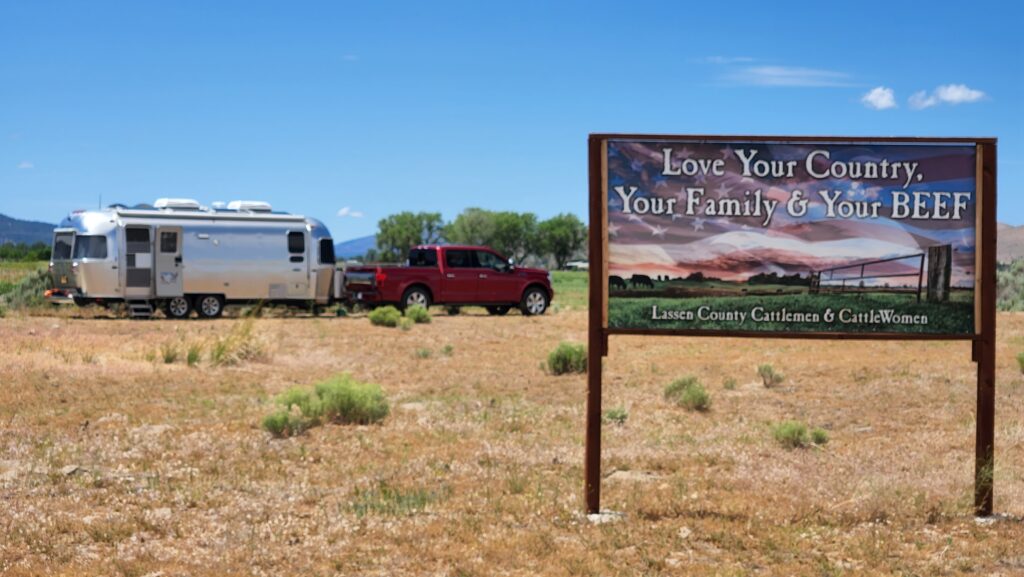 On this night I stayed at Desert Claim Farms 30 miles east of Conrad Montana, owned by Ken and Cindi Johnson. Together they farm 4,800 acres of wheat, barley, lentils, peas and other pulse crops, and they do it all by themselves – with occasional help from a third worker. They can do this because of extensive technology, otherwise known as "Precision Agriculture."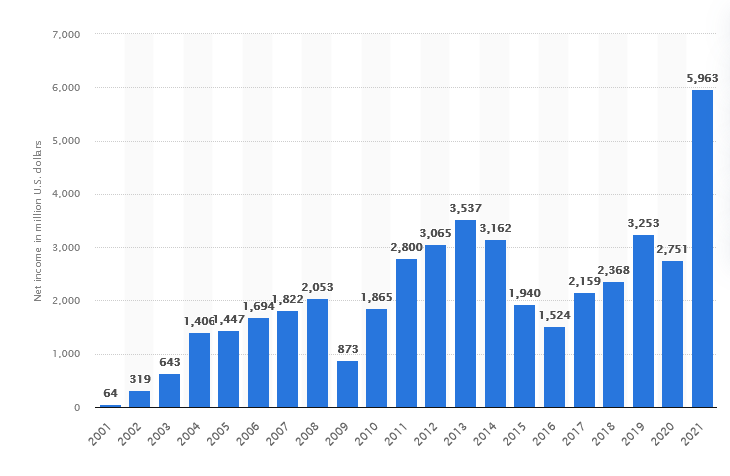 Ninety percent of the equipment in this part of the world is green, that is, John Deere. It is big and it is expensive. John Deere is an American success story. In 2001 their income was $64 million. Twenty years later, in 2021 it was $5.9 billion. They have achieved that by providing farmers with good, reliable products and expansion to world markets. In the past 8-10 years equipment cost has increased dramatically due normal inflation factors, but also due to the large amount of technology that has been installed to greatly improve farming efficiency.
At Desert Claim, planting is done by "a train" – a nitrogen fertilizer cart, followed by a 60' drill, followed by another cart with starter fertilizer (a different mix of nitrogen and nutrients) and of course, the seed. This is all pulled and powered by a John Deer 9560RT Tractor. From a planting perspective, it is one and done!

The tractor is GPS-guided over the field in passes that can be 2-miles long. The only time the driver is required to steer is to turn around at each end The operators primary job is to monitor the five computer screens showing the performance of the planting operation, then respond to alarms for seed or fertilizer blockage. Otherwise they can just sit in the climate controlled cab and read a book!
The cabs of this equipment are as plush as my F-150 Platinum – Leather heated and ventilated power seats, with lumbar support and massage, 6-speaker sound systems, USB connections, 120v AC outlets, a refrigerator, and heated telescoping mirrors. (However, out here there is not much need for active braking and collision avoidance!) The Desert Claim combine travels over 515 miles in a single harvest. Farmers have no federal restrictions on length of day like truck drivers, so one can spend 12-14 hours in the cab – longer during harvest. The cab luxury can make it more tolerable. All of the machines are equipped with 3g and 4g cellular modems and are connected to the network in real time. Night work is as good as day as the equipment is surrounded by lights. As one farmer said, "It looks like a moving city!"
The "farming system" includes a 120'-foot boom sprayer to apply various weed killers, nitrogen, etc. during the growing season. It uses the same precision field map to adjust application rate. Since his sprayer is 10 years old, Ken is considering a new sprayer equipped with even more sophisticated technology, with cameras and artificial intelligence processors that can identify the weeds from the crop in a fraction of a second and spray only the weed. John Deere claims a two-thirds reduction in the amount of chemical required. But possibly more importantly in these times, it can spray two products at the same time, saving one pass through the farm and the resulting savings in fuel. His concern is that this sprayer is nearly $1 million, and so the ROI must be solid.
All this sophisticated implement technology is controlled by the John Deere Operation Center. It allows farmers to setup, plan, do the work and analyze all aspects of their operation from payroll and accounting to yields. It is a fantastic tool. The entire operation is cloud based and Deere advertises that you can manage from anywhere. You can see where your combine is in the field, how much you have harvested, how much fuel remains, and numerous other production factors. It also reports alarms, and advises you on the health of the tractor or combine.
Fields are divided into "pixels" of land, 40' wide and 3′ to 6′ long, depending on tractor speed; each with detailed information on soil type, chemical application and yield. The quantities of seed and chemicals are adjusted dynamically by the planter and sprayer. Yield is measured at harvest time by an equally automated combine. The yearly data is uploaded to the cloud, and over the winter Ken studies the data on rain, soil conditions, yield, and who knows what else, and prepares a new field map for next season's planting. That map is then downloaded to the planting tractor and the process is repeated.
Ken did not tell me how much all of this equipment cost, but some browsing of the John Deere web site generated an estimate of $2-$3 million, new.
The Desert Claim operation brought to mind the old manufacturing axiom that improving quality and/or minimizing the cost of operation can be achieved by an intelligent balance of capital investment and manual labor. Ken's investment in the latest automation allows him and Cindi to manage a successful farm by themselves.
The John Deere Controversy
Now let's consider at least two negative consequences of all this technology and the way John Deere has implemented it:
Through the Operation Center, John Deere might have access to everything about operations at farms. It appears that the only access the farmer has to his own data is through Operation Center applications. It would be a good privacy option if Operations Center could be installed on a private server, but Deere does not allow that. Instead, all of Operations Center, including the firmware in the computers you bought with the tractor are Software as a Service. You don't own it, you rent it. Now, without reviewing Deere's privacy and confidentiality policy, as well as the license for Operations Center, I can't be sure of the details or this risk.
Deere does not give farmers the right to repair their own equipment. Farmers can replace mechanical components, but if those components involve a sensor, GPS, processor, or any other electronic device, it can be replaced by the farmer, but must be configured by an authorized Deere service center. You can license the configuration software from Deere, but at a purchase price and recurring annual cost too high to be justified by most farmers. This also means the technology-based equipment cannot be repaired by an independent shop without similar expenses. Some independent shops and farmers are turning to "gray market" software to allow them to service the electronic equipment. However, since John Deere monitors the performance of the equipment in the cloud applications, I suspect the company could know if there has been a gray market repair. There is more on the John Deere issues in the Bloomberg Report on Right to Repair. Both of these videos are well worth your time.
Obviously, Right to Repair is a big deal for Deere – and all equipment manufacturers – as they stand to lose a lot of revenue. According to Deere & Company SEC filings, parts and service are 3 to 6 times more profitable than sales of original equipment. From the graph below, you can see that since 2013 annual parts sales have increased 23% ($5.2B to $6.8B) while new equipment revenues have declined 20%.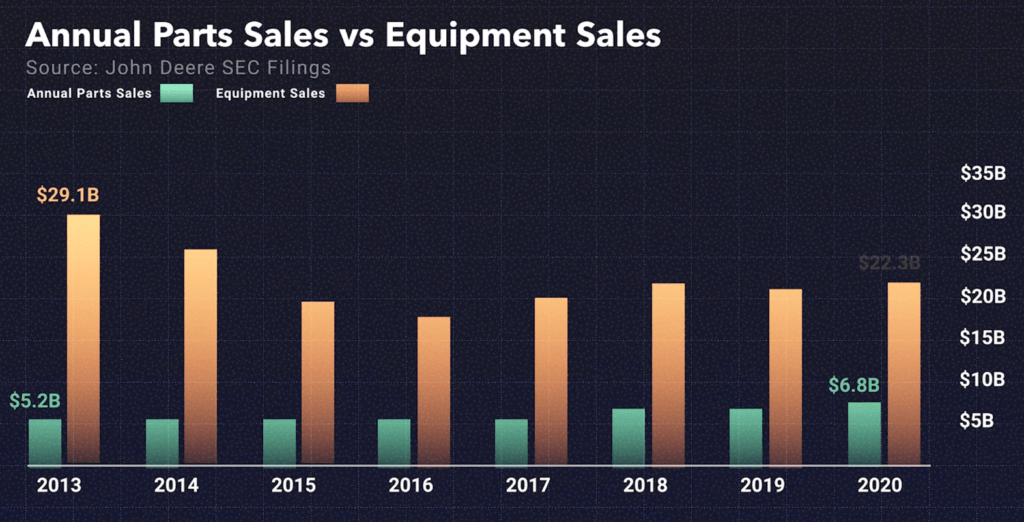 It is unclear how much self-repair laws might reduce service revenues, but there is no doubt equipment manufacturers and dealers will fight hard to stop them. Moreover, farmers often have a close relationship with their local dealer, and Right-to-Repair could fracture that.
Cindi's "Side Hustle"
In addition to her farming responsibilities, Cindi is president of the Montana Farm Bureau and she is committed to advancing the rights and views of Montana farmers in the state and nationally. In June she testified at an event of the House Committee on Natural Resources and the Committee on Energy and Commerce . If you watch this, you will understand the impact that rising petroleum costs has made on agriculture, not only for diesel fuel, but also the necessary nitrogen fertilizer (produced from natural gas.) If you total her cost estimates for petroleum-based commodities expected in 2022, you will get something like $225,000, nearly double the cost of 2021. Add to that the cost of getting crops from farm to market, and you will understand why, in part, your grocery bill has increased so dramatically in the past year.
Wrap-up
Farming is a tough business, only successful long-term by tough and smart people. It is a constant search to get more productivity out of the land, in less time, while using fewer resources, all the time dealing with anxiety over what the weather might do to you. The fact that there are so many multi-generation farms in the US is an indicator of the commitment of these folks and the satisfaction farming provides.

I am not adverse to a company offering good products earning a LOT of money. But it seems there is a substantial inequity between John Deere and those farmers who use their equipment, both financially and in support. It is important to note that Right-to-Repair is an issue extending to many other products, from cell phones to appliances. Expect opposition from many industries and a long legislative process.

America's farmers can feed the world, but the cost to America is high in the form of the disappearing water resources in the west. As water usage quotas are imposed federally, production will fall, prices will rise, and farms that rely on irrigation will suffer. I am impressed that Desert Claim Farms does not use irrigation for any of their production – with the possible exception of Cindi's garden!

Oh, and for my Renewable-Energy-Climate-Change-Friends, it is unlikely farm production and delivery will ever use renewable energy. Well, maybe, if someone invents a 1,000 pound portable nuclear reactor.