2022-05-27
After riding for the Pony Express, serving in the Union Army, scouting for the western military, gaining fame as an "indian fighter", killing thousands of American Bison for the Kansas Pacific Railroad, and trying his skills as an actor on the Chicago stage, William F. Cody founded his Wild West Show in North Platte in 1983. The show toured the US and Europe until about 1909, and made Cody wealthy.
In 1878 Cody began buying up land around North Platte, finally totaling 4,000 acres. The ranch managed by his sister and her husband, the Goodmans was innovative and successful. In 1886 the architect Patrick Walsh built the "ranch" house where Cody intended to retire. He named it Scout's Rest Ranch. Although he never spent much time there he did entertain guests ranging from royalty to celebrities to his old scout buddies.
Today Scout's Rest Ranch is a Nebraska Historical Park, designated as a national historical landmark in 2021. The 18 room mansion in the Second Empire Style is now the central museum of the park. There are several buildings in their original locations including the horse barn. Cody had "Scout's Rest Ranch" painted on the barn roof so it could be seen from the Union Pacific trains a mile away.
The museum in the house and barn contain thousands of items and photos. I was disappointed that it is not well curated, without any form of identification on most of the items. It seems they focused on quantity rather than quality.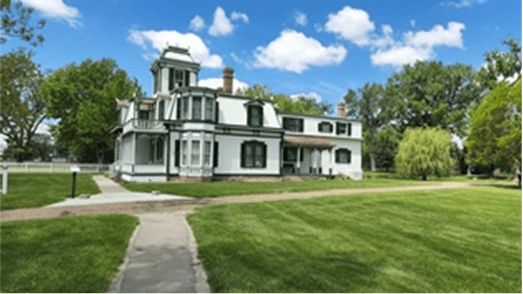 Cody moved on and participated in establishing the city of Cody, Wyoming and founded an even larger ranch there where he developed one of the first irrigation systems.
He was a conservationist, supported Native American civil rights, and the rights of women. He said, "What we want to do is give women even more liberty than they have. Let them do any kind of work they see fit, and if they do it as well as men, give them the same pay."[
I am not sure how I feel about Buffalo Bill. Under contract to the Kansas Pacific he killed 4,282 bison in 18 months, and inspired others to do the same, nearly eliminating the plains bison. On the other hand, he was an agricultural innovator, a Medal of Honor winner and like P.T. Barnum and Elon Musk, a consummate promoter. I suspect his successes were largely due to his ability to convince others, from his sister, to partners, to elements of the government to take up his ideas and goals.
I doubt I will go back.