2022-05-31
In 1903, ten years before the idea of the Lincoln Highway came to be, and travel was dominated by horse and buggy, George Adams Wyman accepted a challenge to ride a motorized bicycle across the continent in 40 days, the first attempt by a motorized vehicle. The California Motor Bicycle Company provided the bike and expense money if he documented the trip in Motorcycle Magazine articles. (Marketing!) He was to receive a bonus if he completed the trip in 40 days. It took 50 days so he did not receive the bonus. But then, he did it by himself, without any support crew. You can only imagine the fragility of a 1902 bicycle with wooden rims and unreliability of a gasoline engine of the day. (His crankshaft broke, and he had to push the bike to Chicago.) Half of his 3500 mile journey was on the Union Pacific railroad tracks.
He kept a detailed journal (much better than what I do) that is the basis of a Grand Tour of the Wyman Memorial Project for motorcyclists wanting to repeat his ride.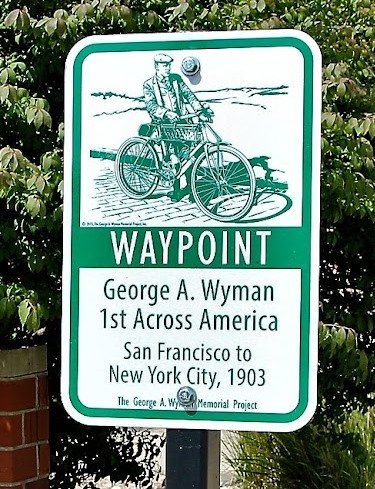 I found a Wyman waypoint marker at the Lincoln Monument just off US30 at 8,600 feet. Here is a list of all the Waypoints from the Wyman Memorial Project.
You can find more history at transportationhistory.org, and of course Wikipedia.