The most fun I have on these wanderings is when I come across a place that is truly spectacular and I had no idea it was there. Such a place is the Crooked River Gorge.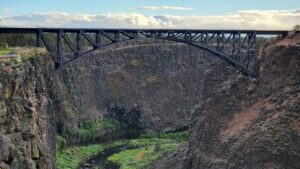 Because of a scheduling problem, I had an eight hour driving day; pretty long for me, and stopped at a rest area north of Redmond Oregon to sleep for a while. Signs in the parking lot said "dangerous cliffs" and "leave your pets in the car. Many dogs have died here!" That was ominous. A short walk brought me to the Crooked River Gorge.
Unlike the Utah canyons where the Colorado river carves its way into the earth over eons, forming sprawling, rugged v-shaped canyons, the Crooked River Gorge is a sharp cut in the basalt rock formed by tectonic and geothermal activity. The crooked river then found the gorge as the least path of resistance. The walls are for the most part vertical cliffs to the River 300 feet below. If you look over the retaining wall, you are looking straight down, no ledges or shrubs to grab as you fall – nothing.
Spanning the gorge are three beautiful steel arch bridges, all within a distance of maybe 200 yards. The first was the Oregon Trunk Railroad bridge built in 1911 by the Spokane, Portland and Seattle Railway company. The bridge is still in use. A 3-locomotive BNSF train crossed as I watched – hundreds of tons on a 110-year-old bridge! (Unfortunately I was not in a position to get a picture. For comparison of scale, the top of the train was nearly in line with the top of the clouds.)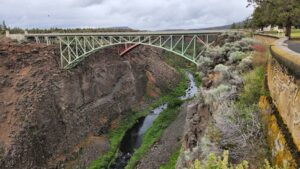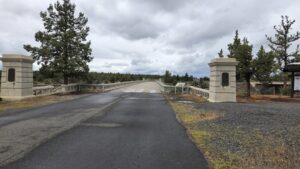 The second bridge to be completed was the US-97 "High" bridge in 1926 – called "a bridge for the new millennium." In fact, it served two millennia, only closing when the Rex T. Barber Veteran's Memorial Bridge 1 was dedicated in 2003. The old high bridge is now a pedestrian walkway where you can walk across the gorge.
After the bridges, the Crooked River flows on down to the Deschuetes and ultimately into the Columbia.
Notes
I first discovered Rex Barber last year at the Evergreen Aviation Museum in McMinnville Oregon. His story is an interesting one, and I will tell it soon.[↩]
___________________________________