Ten or so years ago I quit watching television news — both network and cable. I was often fed up with the drivel that was forced on the viewer as "news" and for me, the last straw was a segment about Paris Hilton doing something dumb and completely irrelevant as "news". There were more productive ways to spend my time. As it turned out, I was none the worse for being "uninformed." Although it was a few months before I discovered that Glenn Frey had died — OK, just "Take It Easy."
So with the 2020 election cycle I decided to tune again and see what was going on in the commercial world. All the drivel news was still there, but now we have "fake news". I am not completely sure what that is, but it seems to me that anything more than "Who, What, When, Where, Why" should be considered fake news. I fail to understand how the opinion of some non-participant can be considered news. Opinions can be significant just as editorials in print media are, but they have been blended with the facts and too many of us fail to notice the difference.
An additional factor is the evolution of 24 x 7 news and the need to fill the time. There may not be enough "Who, What, When, Where, Why" facts to fill 24 hours a day, and certainly the news types are unwilling to work hard enough to make it so. I believe that CNN is largely to blame for the decline in quality of information.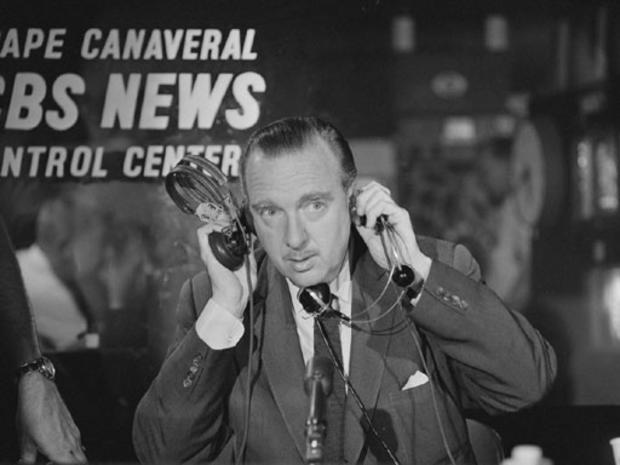 Stand by while I regress. I grew up watching Walter Cronkite, starting when he took over the anchor desk from Douglas Edwards. He was made managing editor of "CBS Evening News". It was a big deal when CBS evening news expanded from 15 minutes to a full half hour in September, 1963. His coverage of the John Kennedy assassination and the first landing on the moon still stands as benchmarks for Real News Coverage. (He is the only non-NASA recipient of a Moon-rock.) Even years after retirement he was still considered "The most trusted man in America".
Cronkite had opinions, but unlike many current TV journalists he was careful to identify them as such. Among his tenets were:
"Objective journalism and an opinion column are about as similar as the Bible and Playboy magazine."
"Our job is only to hold up the mirror – to tell and show the public what has happened."
There's a little more ego involved in these jobs than people might realize.
Nearly 25 years ago Cronkite judged many news operations as a circus of the "the coiffed and the vacuous." I can only imagine what he would say now.
Cronkite closed his clear and concise broadcasts with "And that's the way it is…" and America believed him. We miss you, Walter.